Target Industry Strategies
In addition to helping improve community's product to better attract investment and retain companies, Garner Economics works with clients to identify and focus on the types of companies the region has the greatest potential to attract. Through a rigorous, fact-based Target Industry Strategy, we assist clients in prioritizing where marketing dollars should be invested for business expansion and attraction efforts. The Target Industry Strategy serves as our client's marketing and product improvement foundation in implementing their region's economic development goals for years to come.
Targeting is a science and art.
We know how to do it. Effectively.
Garner Economics uses a rigorous, fact-based target industry analysis to help clients determine the types of companies that would strengthen the local economy and contribute to its overall business climate.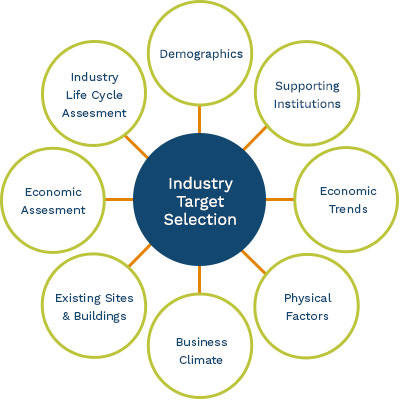 "After receiving proposals from leading international consultants, Garner Economics was the clear choice. Jay Garner brought a "site selectors" perspective to the process, and his team provided valuable data-driven and insightful guidance to help us capitalize on our strengths, and identify areas in need of attention to best equip our community for future success."

Jason Hester, Executive Director | Columbus (IN) EDB
---
Sample Clients
---