Economic Development Is [STILL] Not For Amateurs! (2nd edition)
Economic Development Is [STILL] Not for Amateurs! (2nd edition) shows forward-thinking leaders how to transform local, regional, or state economies and supercharge a community's revitalization effort to attract jobs, investment, and residents.
This second edition follows a very well-received first edition that has sold nearly 5,000 copies. Revised and updated for a post-COVID reality, two new chapters are now included to demystify today's site-selection process, and turn equity, diversity, and inclusion into community pillars that will both attract investment and spark sustainable wealth-building. Offering practical real-world solutions, economic development experts Jay Garner and Ross Patten identify the steps that communities of all sizes can implement to create a roadmap for long-term economic success.
This step-by-step guide to transform locations explains how to:
Provide the certainty, simplicity, and speed necessary to build a strong business climate
Sell voters on the investments necessary to attract and retain employers and jobs
Create, identify, and reinforce your community's brand
Build a resilient economy prepared for business closings, natural catastrophes, and stiff competition
Help create irrefutable proof of a skilled workforce that is ready to work as well as a talent pipeline that is ready to fill the jobs of tomorrow
Find the inevitable bottlenecks of investment in order to keep your momentum building
NEW — Understand the site selection process
NEW — Create a community-focused approach to diversity, equity and inclusion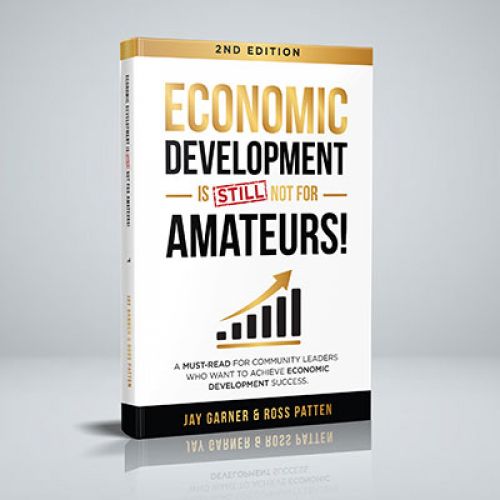 Chapter titles include:
Chapter 1: Effective Leadership = Community Prosperity
Chapter 2: No Product, No Project®
Chapter 3: Market Regionally, Sell Locally — and Protect the Brand
Chapter 4: Is Your Labor Force Work Ready?
Chapter 5: Demystifying the Site-Selection Process (New)
Chapter 6: Grow Your Garden
Chapter 7: Time Kills Deals
Chapter 8: The Charm Factor
Chapter 9: Y'all Means Y'all (New)
Chapter 10: Control Your Own Destiny or Someone Else Will

Each chapter has a bulleted summary of the key takeaways for quick reference and recall.
How to order
Paperback:Amazon will print exactly how many are ordered and will ship to the customer. For paperback orders of 1-25 copies, the cost is $16.99 per copy plus shipping purchased directly through Amazon.
---
Bulk Pricing:
For orders of 26-50, $15.99 per copy, plus shipping & handling ordered directly through the authors. The order will be shipped from the authors and can be signed if desired (by one author). Please contact either author for bulk orders of 26 or more.
For orders of 51-100, $14.99 per copy, plus shipping & handling and can be signed if desired (by one author).
For orders in excess of 101, $13.99 per copy, plus shipping & handling and can be signed if desired (by one author).
Allow 2-4 weeks for delivery of all bulk orders if signed by an author.
For bulk orders of 100 or more, either Jay or Ross will provide a virtual book presentation at no additional charge. This is a great opportunity to engage community leaders at board meetings and at board retreats. Contact the authors at This email address is being protected from spambots. You need JavaScript enabled to view it. for more information.
eBook orders: Amazon does not allow the modification of eBook fees. The cost for this eBook is $9.99. You can still buy it in bulk as an eBook and then provide a redemption code to selected recipients. When an entity buys multiple copies of a Kindle eBook on Amazon.com, Amazon creates a set of redemption links, one for each copy of the book. You can send these links to any reader who is in the same country where you bought the copies. Recipients can redeem the eBook from desktop or mobile browsers and download the eBook to registered devices. This eBook can only be read through a Kindle or a Kindle app. Any smart device or tablet (e.g., iPhone, iPad) can download the Kindle app and read this book. We use this app on our iPhone and iPad, and it works great!
Whether you are a newly elected or appointed leader wondering where to start or a long-term policymaker looking to model today's best practices, Economic Development Is [STILL] Not for Amateurs! will show you the way.